ABOUT BESPOKE
At READ WALL, we have a deep respect for the craft behind our products. Clearly defining what our product is, how it is made, and what level of quality can be expected is important to us. Many contemporary menswear brands have used their marketing departments to blur the lines between traditionally well-defined levels of craftsmanship, and no term has been obfuscated more aggressively than one perceived to be the pinnacle of quality tailoring: Bespoke.
So what exactly is a Bespoke suit?
Put simply, bespoke means creating a pattern and producing the resultant garment completely from scratch. Beginning with a discussion of your specific needs for the garment, your tailor will conduct a seemingly endless session of measurements, notes, drawings, and pictures to communicate his design and accommodate the unique characteristics of your body. The most important step in this process is that this same tailor will use his measurements and notes to draft and cut your pattern.
Once the fabric is cut, other tailors may assist with the sewing and construction of the garment. A bespoke suit is usually fitted on the client 3-4 times throughout its construction to ensure proper fit and comfort. Any modifications to the garment are recorded and the client's paper pattern is updated to reflect them. The result is a garment which has been continuously scrutinized by both client and tailor throughout its production — and in the end, the garment is constructed, deconstructed, and reconstructed multiple times. The entire garment should be made by hand.
In addition to an unparalleled fit, it should reflect a harmonious marriage of the client's preferences and the tailor's skill.
There are tailors, both men and women, who dedicate their lives to mastering the skills necessary to produce a truly bespoke garment. We believe it is important to keep the word "bespoke" meaningful to honor this commitment to craftsmanship.
A Note from the Team
While our bespoke program includes a full basted-fitting, hand-padded lapels, and complete control of the most minute of details, it is a time intensive process that is not to be rushed – we believe that these garments are something special, worth waiting for. For those clients who are conscious of their time or the cost of the garment, our made-to-measure suits are often a better fit.
READ WALL Bespoke
At READ WALL, we offer a completely Bespoke suit, measured and cut by our Master Tailor and constructed completely by hand at our workshop in Northwest Washington, DC.
READ WALL Bespoke is the pinnacle of American craftsmanship. From an individually hand cut pattern, full basted fitting, and individually sourced highest quality linings, canvassing, and trimmings, our Bespoke suits are the real mccoy. Every detail on our Bespoke garments are chosen to fully express your unique style.
The READ WALL Bespoke process requires 3-4 fittings, each fitting the next step in bringing you a garment that is uniquely your own. Here's a snapshot of each fitting: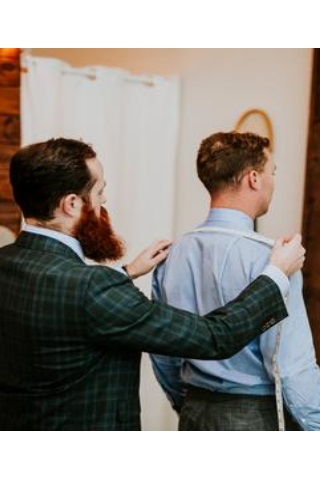 First Fitting: A Conversation
We gauge your personal preferences — how you like your clothes to feel, fit, and move — as well as discuss practical design and aesthetic considerations to ensure your finished garment is ideal for its intended use.
We will take a number of measurements (50+), note posture and shoulder slope, and consider any fit peculiarities.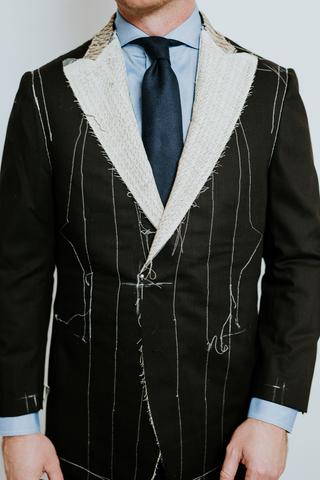 Second Fitting: Where the Magic Happens
In your second fitting we use a full basted garment, which is a loosely constructed version of your suit, designed to identify the nuances of your fit. Our tailor will mark and pin your basted garment, deconstruct the garment, re-cut the pieces to reflect your shape, and then re-make the garment for finishing. All changes will be marked on your paper pattern to be used on future garments.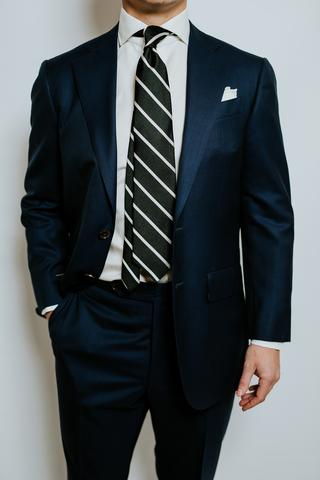 Final Fitting(s): The Big Reveal
While you admire your finished garment, we will mark the hem on your trouser and be sure you are showing equal amounts of cuff on both sleeves. We will also mark each sleeve so it can receive hand-sewn buttonholes. We may do an additional nip and tuck to ensure an optimal fit and clean lines.
Additional Details
When we are finally satisfied that you look your best, we send you and your garment off into the world, to be lived in and admired. In total, the process will take 8-12 weeks, which is variable and highly dependent on your availability for each fitting.
Prices start at $3400 for suits; $2500 for sportcoats; $3800 for tuxedos.