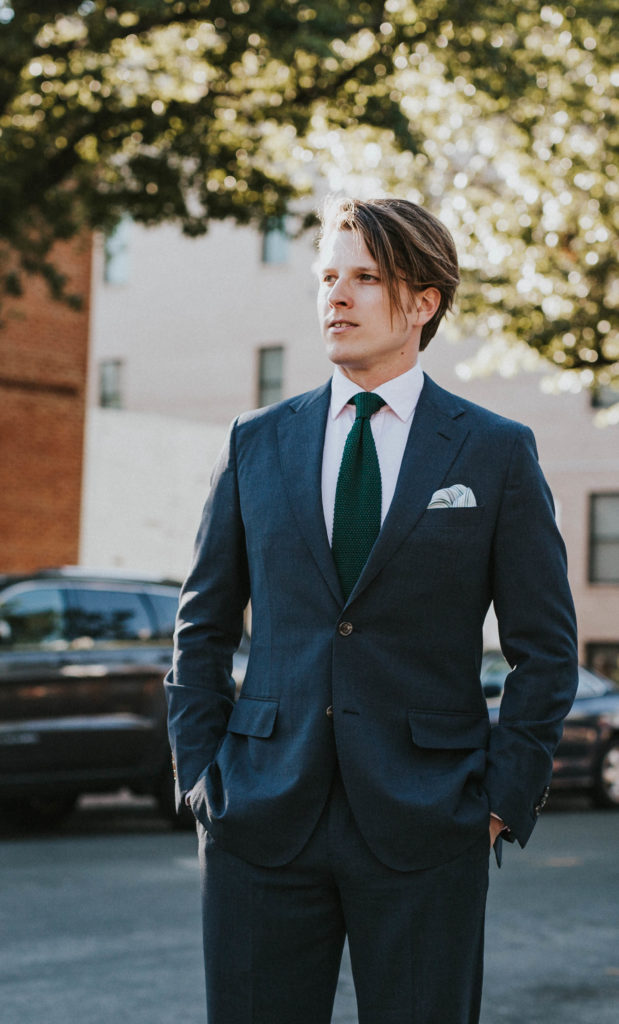 Each week we'll be interviewing a member of the RW team to get a better idea of the fine folks who help to make sure your experience at our shop is unlike any other. From style preferences, to tasty takes, to DC go-tos, we hope to give you a little more insight into what makes READ WALL a great place to come for your sartorial needs.
––
Hey there Chris.
CS: So where'd you grow up? Whats your background?
CT: I grew up in Williamston, MI, which is a small town southeast of Lansing. I moved to Washington in Fall of 2012. My wife was working here in DC as a journalist with  pretty good job, so I decide to move to town. Make it go here.
CS: Coming in a little hot, how would you describe your personal style?
CT: For the most part, I like to keep it between the lines. I don't like to do anything thats too flashy, in general. I like tones that are earthier – most of the time I try to stay away from jewel tones. I really like texture a lot, I want to dress myself in outfits that have some depth, because I think the subconscious perception is that the wearer also has some depth. I like to look like a guy who's worth talking to – put simply.
CS: What would you say are some of the biggest influences on that style? Whether aesthetic or non-aesthetic?
CT: I think at my best, I'm normally dressing in ways that reflect the spaces that I'll be occupying. Or perhaps that reflect spaces which can be easily imagined. Say it's kind of a classic club room or something – with a navy, white, burgundy, and gold – maybe it's a rainy day, and because of that I like to use greys and greens and blues to, kind of, fit into the surroundings. To make sense in the environment.
CS: What's your take on men's style in DC?
CT: There's a segment of career men in this city who do an exceptional job of dressing themselves in the classical vein. And I'm talking button-down collars, classic-patterned ties or repp stripes, navy and charcoal suits – it really is a DC-uniform. There's a segment of the younger population who really wants an element of self-expression, and I think the younger guys who figure out how to temper their desire to be noticed can do really really well in terms of style in DC. It's a company town, and it's a conservative company.
CS: I'm sure, like we talk about so often with clients, you've built out a solid group of essentials in your closet. What would you say your go-to's are?
CT: Well I keep a range of solid suits – navy, grey, olive, brown – and I find that thats really nice because it just changes the color palette without changing the sensibility of the outfit. I generally like to keep color combinations fairly classic, I don't like to stray too far from, lets say, classic color ways because I find it can end up looking very dated, very quickly. I want to be able to look at pictures of myself in 10 years and feel like I don't look too silly. In that way I hope that by collecting these quality items, they can have a lot of staying power.
There's a budgetary reason for that strategy, but again I think its that subconscious effect of being such a sensible way to dress – it helps the observer to interpret you and think positive things about you and your character.
CS: How about essentials for the morning after a night of drinking?
CT: A pink shirt does really well on a hangover day. Likewise, a burgundy tie, something thats going to get a little color back into your face. I'll go for a darker suit as it helps slim everything down. Sometimes, if I can get away with going open collar, I'll do that as well.
CS: So you write the Advanced Water Purification column, a proper cult classic in the world of READ WALL content. The readers want to know, you're making a drink at home, what's your move?
CT: Martini or Manhattan. It gives you a dark and a light option, they're quick to make – you know, 3 ingredients – pretty simple. I'll choose one or the other based on how I'm feeling that day, although I probably end up drinking more manhattans when its cold and more martinis when its warm. That's probably more of a perception-thing then anything else.
CS: We're going out for a drink after work, where are we headed and what're you drinking?
CT: All Souls, right at the end of the block, it's an excellent corner bar. The drinks are $9, and they're good. And you can order off-menu if you want to, without being concerned that you're going to get something bad. They keep it between the lines, it's a place that can be relied upon and enjoyed at the same time. Surprisingly difficult to find.
CS: You and your wife, Emmarie, are looking for a great dinner in the city? What's the go-to spot?
CT: I actually have very little dinnertime loyalty among the restaurants in DC. There's so many restaurants here and its so easy to find good food, that what Em and I like to do is if we're out for dinner we'll go to a place, maybe order a couple of appetizers. Then go to the next place and do a couple of appetizers there, just being able to sample around a little bit and get a taste for what each place is really good at.  Plus that keeps it light, because lets face it, I'm usually ordering a couple cocktails alongside the food. Gotta watch those calories, we're not getting any younger over here.
CS: You're building out your dream wardrobe. It's already filled with RW custom tailoring, what other 3 essential pieces are you still looking for?
1. Alden Indy Boot
2. Filson Mackinaw Wool Cruiser (I currently have the tin)
3. Classic Pair of Denim Jeans (I like a buttonfly – for the romance, if not the convenience)
Lightning Round
––
CS: Walk out of Compass Coffee and are heading over to open the shop, what're you drinking?
CT: Light roast
CS: Whats your favorite piece that you've commissioned while here at READ WALL?
CT: Mid-grey flannel suit. It ties me into generations of well-dressed men, and its so comfortable.
CS: Mount Rushmore your style icons
CT: Bill Murray – Prince of Wales – Robert Redford – Coco Chanel
> Either/Or's (Answers in Bold) <
Suits: Pinstripes or Plaids
Arcade Games: Skee Ball or Wack-a-mole
Bolo Tie or Band Collar
Tuxedo Shirts: Stud Front or Covered Placket
Winter-weight Cottons: Moleskine or Corduroy
Lace-ups: Split toe or Cap toe
Brown Liquor: Bourbon, rye, or scotch.
For reasons of journalistic integrity, I cant answer this question.
Summertime suits: Cotton or Linen
Feet: Socks or no Socks? Trick Question. What are socks?
––
Interested in hearing more from Chris? Check out last week's piece on… the Gin Toddy!?